The year I got married also saw many other weddings among our close friends as well as the first big, splashy royal wedding in a while. Yes, it was the same year Will & Kate wed. 2011 really was the year of weddings in my world! I remember rushing home from work on that Friday afternoon, April 29th to watch the replay of the wedding. I was absolutely in awe with it all! I admired her dress and the flowers and the choice of music… All of it met with my oh-so-American approbation. I'm sure that's how my mother's generation felt about the wedding of Prince Charles and Princess Diana.
I was hooked with the escapism of it all. Since then, I have enjoyed watching subsequent televised royal weddings such as that of Prince Harry and Meghan Markle. There's always the curiosity of what the dress will look like, what flowers will be chosen – and my favorite – the cake. A royal wedding is largely a political affair. Sure, it's an official marriage between the two parties, but many of the choices are largely a strategic political move here and there in their choices of vendors as signs of respect and honor to the culture from whence the individuals came as well as signaling the direction the couple is headed in their public work.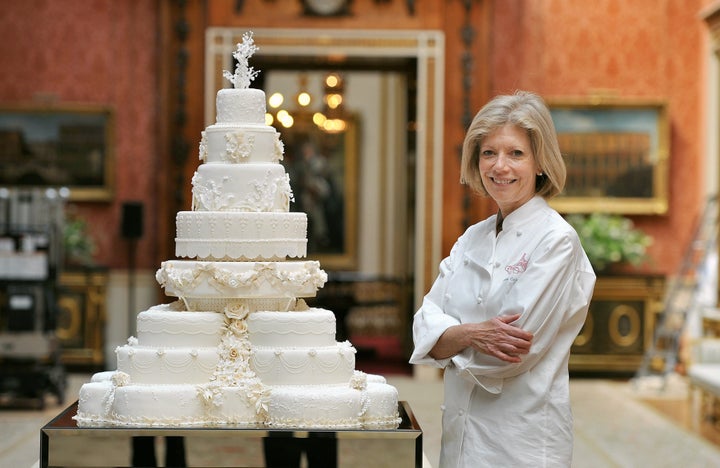 Traditional English wedding cake is a liquor-soaked fruitcake enrobed in a pretty icing. Historically, the top tier is reserved and slices are served at the christening(s) of their child(ren). Thank goodness fruitcake refuses to spoil due to all the brandy! However, Harry and Meghan went in a different direction with their wedding cake. They chose something a little trendier, while still remaining "quintessentially British" and "incorporated the bright flavors of spring" with their Lemon-Elderflower Cake as their wedding cake.
The cake is described as "featuring elderflower syrup made at The Queen's residence in Sandringham from the estate's own elderflower trees, as well as a light sponge cake uniquely formulated for the couple… A filling made from Amalfi lemon curd and elderflower buttercream ties all the elements together. The cake is decorated with Swiss meringue buttercream and 150 fresh flowers, mainly British, and in season, including peonies and roses." After reading about their cake, I knew it would be something I'd like and I quietly filed the article from People away in Pinterest for a later time.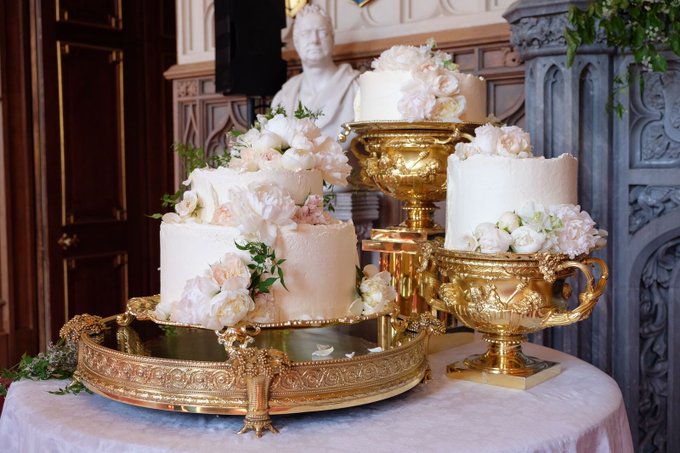 One thing to note about Ana Calderone's version of the cake in her People article is that, while I don't doubt that it did take her a while to make the cake and it turned out every bit as good as she reported, I just wish it had more of an accurate representation of the cake itself. Since we have the description above (also from People) posted just one day after her article, I wish her version had been able to stick closer to the original even if we can't source the exact ingredients listed. It might have taken the author longer, but pulling out a Swiss meringue buttercream vs the traditional buttercream would've been far more rewarding in my opinion. But alas, I'll give Ms. Calderone the benefit that perhaps she was tasked with coming up with a recipe accessible to the average home baker. If only they'd had the benefit of one more day…
I myself only made half the recipe because who needs a two-tier cake at their house especially during this time?! I'm leaving my version below. I've also cut the buttercream recipe down even further because there was such a spectacular amount left over even after cutting it in half that I felt it was so terribly wasteful! Additionally, I've swapped the St. Germain mixture for Belvoir Elderflower Lemonade since you're basically making something similar and you're not going to miss the minute amount of alcohol… Who wants to buy a bottle of expensive, very specific liqueur for one recipe?
Sponge:
2 cups AP flour
1-1/2tsp baking powder
1/4tsp salt
2 sticks butter, at room temperature
1 cups sugar
Zest of 1 Meyer lemon
4 lg eggs
1/2c sour cream, at room temperature
4oz vanilla Skyr
2tbsp lemon juice
2tbsp elderflower lemonade
Frosting:
3 sticks unsalted butter, room temp
1-1/2lb powdered sugar
1-1/2tsp vanilla extract
1-1/2tbsp heavy cream
1-1/2tbsp elderflower lemonade
Green, yellow, and pink gel food coloring
Directions:
1) Preheat oven to 350°F. Spray two 9in round cake pans with Pam and line with parchment paper. In a med bowl, sift flour, baking powder, and salt together. In the workbowl of a stand mixer, beat butter on med speed until soft and light. With the motor still running, slowly pour in sugar and lemon zest. Beat about 5min until all is incorporated. Scrape down sides and bottom of bowl and add eggs one at a time, beating well between each addition. Stir in one third of flour mixture, then sour cream, then a third of flour mixture, then Skyr, and then final third of flour mixture. Stir in lemon juice. Divide batter between pans equally. Bake 20-25min until a toothpick inserted in center of cake comes out clean. Cool cake in pans on wire rack for 5min, then turn out cakes onto rack to cool completely.
2) While cakes are cooling, beat butter on med until light and fluffy. Scrape down sides and bottom of bowl and gradually beat in powdered sugar. Beat in vanilla, cream, and lemonade. Continue to beat until completely incorporated. In 3 separate bowls, stir about 2tbsp frosting each with a little gel food coloring. Leave the rest of frosting white.
3) Using a pastry brush, brush lemonade on bottom layer. Spread with a layer of buttercream. Top with second layer and brush on remaining lemonade. Spread more buttercream over top and sides of cake. To create watercolor effect, place cake on a turntable and smush a dollop of green, yellow, and pink buttercream equidistant around sides of cake. Using an offset spatula and gently turning cake on turntable, blend colors around cake. (I also continued this on top of cake just for fun!) Top with fresh or edible flowers, if you choose, and serve!
The cake was light, refreshing, and wicked sweet (probably due to all the frosting). The lemon was assertive, but not overly aggressive. I chose Meyer lemons over traditional ones due to their sweeter, milder flavor and aroma. The elderflower ran a gentle undercurrent below the predominant citrus and sweetness. The buttercream was incredibly rich and decadent, but not so much that the freshness of the sponge couldn't break through to the taste buds. The combination of sour cream and Skyr even added a delicate tartness to balance the sourness of the lemon and sweet creaminess of the buttercream. The subtle floral undertones from the elderflower only complemented and added to this balance.
Both weddings were beautiful, but I personally enjoyed Will & Kate's wedding more than Harry & Meghan's. More traditional and fairy-tale, less trendy and political. It's just a personal preference. So, not a food question this time, readers. Which team are you? #TeamCambridge or #TeamSussex? Sound off in the comments below!
Currently Reading: Nothing new, sadly.