It's finally puffy coat weather! I'm so excited and I just can't hide it! Ok, I'll stop. But really! It's the perfect cozy weather for Hallmark and chill… and slow-cooker oatmeal! I recently bought a cute sweatshirt to celebrate!
Oatmeal doesn't have to be boring. It doesn't have to be just generous and warming, but exciting too! I may be a little biased since I eat oatmeal about once a week. What can I say? It's filling and good for you. I usually keep a packet or two in my purse for Sunday mornings after first service when I serve in the nursery at church. It keeps me going and helps me avoid the doughnuts (when I remember to eat it).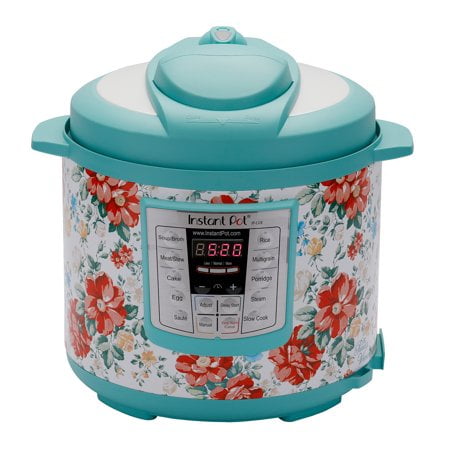 You've heard me tell about the beauty that is my Pioneer Woman edition Instant Pot that the Mr got me last Christmas… well like any other gadgets, you get manuals for proper use, the occasional registration, and sometimes a little booklet of recipes to try to get you used to using all the facets of the product. This one was no exception!
The Instant Pot isn't just your grandmother's pressure cooker. It's so much more and replaces many appliances (if you really want that…). It's really a multi-cooker! It's a pressure cooker and a rice cooker and a slow-cooker and… so much more. To date, I've used the pressure cooking function the most, but I've also used the rice cooker function as well as the slow-cooker and sautée functions. I can't wait to explore them all!
Since it was so rainy and cool this week, Ree Drummond's included recipe for Berries & Cream Irish Oats seemed ridiculously apropos. (I wasn't able to find an exact link for this recipe, but this one is a good facsimile.) It was creamy and sweet, bursting with pops of berries (fresh and cooked) and great pockets of crunch with toasted coconut and almonds. Despite the fact that it was steel-cut oatmeal, it wasn't overly heavy. I didn't feel weighed down, but I still got the warm and comforting sensation for which I was aiming.
This recipe used the slow-cooker and sautée functions. While I appreciated working more functions of the Instant Pot, I'm not sure I need a separate sautée pot in general… maybe if I were a college student this would be perfect since it maximizes on performance and minimizes on taking up space… However, I have a stovetop for this. Still it was so easy to do in the pot and the actual pot itself wasn't blistering to touch at the rim when I went to pour out the almond-coconut mixture, so that's a bonus! Another note about this appliance is that it has (as far as I can tell) one level for slow-cooking. Low.
While there was a 1/2c of packed brown sugar in the recipe, it wasn't overly sweet and the finish of maple syrup drizzle actually complemented the dish nicely. The maple syrup actually tied it into fall and winter better in my opinion. To make it feel more like fall and winter next time, I would perhaps swap out the berries with figs and dates and exchange the coconut and almonds for walnuts and pecans. (This recipe really translate well for a spring and summer dish; but living in Texas, I don't know many who crave hearty bowls of oatmeal in those seasons…)
What are your favorite things to put in your oatmeal?
Currently Reading: Saveur Magazine, issue 179, December 2015