I have such a fulfilling variety of friends. Their personalities and looks and styles are all beautifully diverse. Each one of them adds just the right amount of balance and seasoning to my life. I wouldn't change any of them for the world. My friend Faith at Faith Hope & Sparkle is beautifully bold, apologetically outspoken, and brings the party with her wherever she goes! In her true vivacious form, she managed to find me one of the coolest birthday gifts. It was both thoughtful and evoked her personality in spades.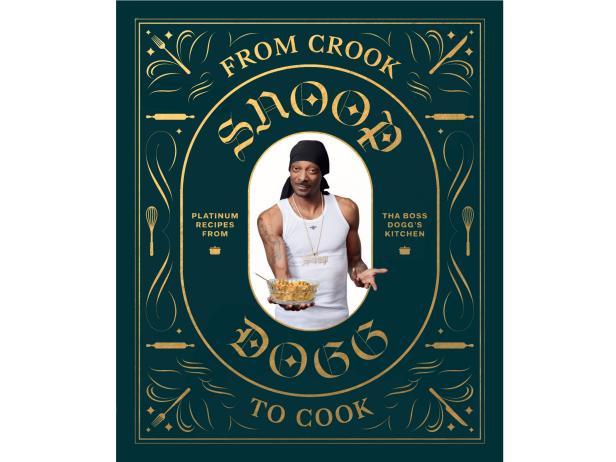 Everyone knows who Martha Stewart and Snoop Dogg are. Some probably knows by now the special friendship that exists between Martha and Snoop. BUT not everyone knows that Martha has rubbed off on Snoop a bit and he's published his own From Crook to Cook: Platinum Recipes from Tha Boss Dogg's Kitchen cookbook. At first you may laugh and think of it only as a "coffee table book" or a gag gift, but once you really crack the cover and dig into the meat of the text, you really get to peel back the layers of Snoop until you get to the core of the man behind the character.
You can't help but read each caption or section in Snoop's voice and cadence of speech making it even more approachable. It's like he's right there in the room with you, chillin'. The recipes aren't shallow either. They actually display considerable thought to texture and flavor of each dish and leaves plenty of room for personal taste and style. It's billed as a soul food cookbook and this is one part of my repertoire that's running a bit light, so I'm pretty excited to dig in and practice!
The description of this recipe pays homage to two other revered ladies in Snoop's life. One is his wife Shante Broadus and the other is prolific American chef Edna Lewis. He credits Ms. Lewis with further the commercial acceptance and appeal of soul food in American cookbooks. The epitaph on Ms. Lewis' headstone reads "Dr. Edna Lewis, April 13, 1916–February 13, 2006, Grande Dame of Southern Cooking." Ms. Lewis is revered for advocating for traditional Southern cuisine and bringing it into the more mainstream spotlight. If you're interested in finding out more about this incredible woman, The New York Times published a lovely piece on her here!
The Mr is a macaroni and cheese connoisseur. He isn't afraid of high-end cooking, but his favorite dish in the end is mac & cheese. Every time we travel, the way we pick the hotel is by who has Eggs Benedict (for me) on the breakfast menu and mac and cheese on the lunch/dinner menu (for him). If a restaurant has mac & cheese as a side, he'll choose it every time. Even if it's an upcharge. So it only seemed natural that I should choose to make Snoop's "Mack and Cheese" as my first attempt from this book.
My alterations: This recipe calls for the mac to be made in a 9×13 baking dish, but since I cut the recipe in half for just us two, I chose to pile it high in my individual Lodge Cast Iron 10oz Square Mini Servers. I also opted to stir – ok accidentally! – stirred all of the shredded cheese into the filling and didn't leave any for the topping. I fixed the issue with the topping with a combination of butter and Panko from the pantry. This gave us a buttery, crunchy topping to cut through all the oozy, cheesiness within. We also chose to use wagon wheel pasta since we had some on hand in the pantry already. See my complete spin below!
Ingredients:
1tsp kosher salt
1/2lb wagon wheel or elbow mac
1c whole milk
1/2c heavy cream
6tbsp salted butter, divided & softened
2tbsp AP flour, divided
2-1/2c shredded extra-sharp cheddar
1/3c full-fat sour cream
1/2tsp fresh cracked black pepper
1tsp dry mustard
1/4tsp ground nutmeg (optional)
1tsp Worcestershire sauce
pinch cayenne or a few dashes of hot sauce
1/2c Panko bread crumbs
Directions:
1) Preheat oven to 400°F and place oven rack in middle position. Either place 2tbsp of butter in one 10-1/4in cast iron (or use to grease one 8×8 baking dish) or 1tbsp in each mini server. Set aside.
2) Bring a large pot of salted water to boil. Add the pasta and cook until al dente (usually 1-2min less than package instructions). Drain & rinse and set aside.
3) Heat the milk and cream in a small saucepan over med heat, being careful not to boil.
4) While the milk & cream are warming, melt 2tbsp butter in a lg skillet over med heat and sprinkle in 2tbsp flour. Whisk together to make a roux and then gradually whisk in milk & cream. Continue to whisk until the whole becomes thick, creamy, and smooth. Do not boil!
5) Gradually add in the cheese and continue whisking until all is completely incorporated. Do the same with the sour cream. Finally, whisk in the seasonings and then the macaroni until all is fully immersed.
6) Dollop the mixture into prepared vessel and set aside. In a small bowl, combine Panko and 2tbsp butter. Spoon mixture over top the macaroni and pop the dish(es) unto the oven to bake for 20-30min until golden. Take care to check on it every 2-3min after the 20min mark so the top doesn't burn. Serve immediately. Serves 2-3 depending on appetite and other components you choose.
Mac & cheese is a side dish so the question of protein came up. One of favorite combinations with macaroni isn't the ubiquitous hot dog. It's actually lobster! I know this may seem "bougie," but we would be remiss if we didn't throw down Snoop-style and combine lobster with our mac & cheese. With the bonuses I've been receiving from work lately (even at part-time hours), I was able to make a little room in our budget for a couple of small lobster tails to round out our dinner. The flavors are unexpectedly complementary and it's seriously worth the extra expense!
In the end, this dish resembled the classic mac & cheese you'd expect, but presented more and startlingly sophisticated strata of flavors. The tanginess of the sour cream stymies the extra-sharp cheddar from making the dish too rich. The Worcestershire adds an umami twang that sets this mac apart from others. I definitely enjoyed it, but The Mr couldn't obviate his senses from the nutmeg in the dish. He just doesn't love nutmeg in anything that isn't a baked goodie in Fall. It's his prerogative and if you so choose, you can leave it out!
Where did you have your most memorable mac & cheese?
Currently Reading: Magnolia Journal, Summer 2020 issue